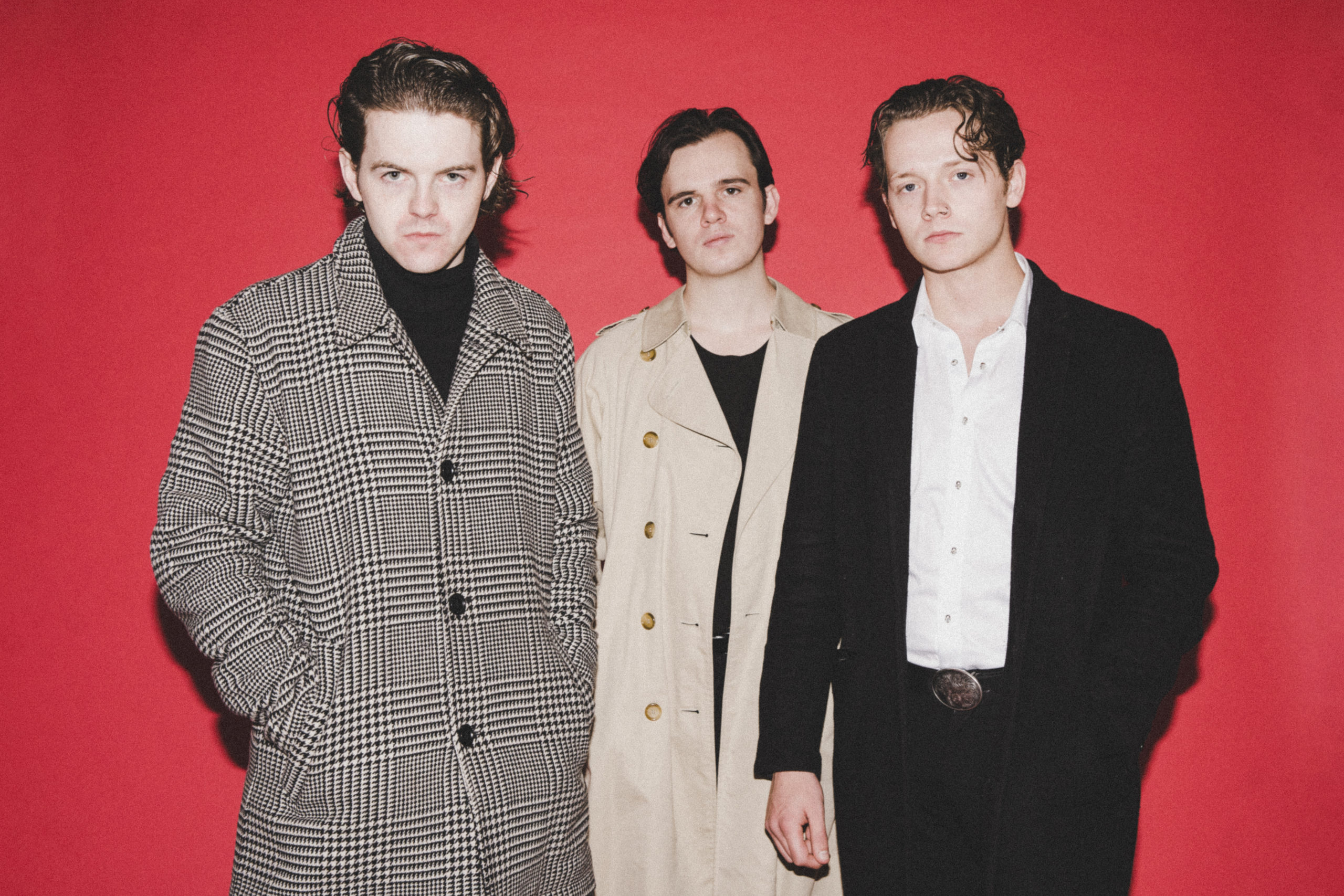 It is a freakishly sunny lunchtime, mid-March 2020. Covid-19 is on the news and it's the only thing anyone seems to talk about. But no matter. Today I am due to speak to The Blinders' Thomas Haywood and Charlie McGough and there's much for us to chew over away from the pandemic. The outfit's impressive rise and the release of a second album just two of the things springing to mind.
Turns out Tom is running late, so late in fact it's just myself and Charlie for my allotted half hour. But although McGough is unexpectedly flying solo and the world around us is obsessively hunting for toilet rolls, he is in good spirits.
It's weeks to go before the spikily titled album Fantasies of a Stay At Home Psychopath is due to come out, but what either of us don't know as we talk about our mutual fondness for Manchester, its record shops and venues ('I don't know what it is about the place but it keeps churning bands out and there's always something new going on you do feel like you're living in a very evolving city') , is that very shortly indeed our lives would change dramatically, lockdown ordered across UK just 6 days later.
For The Blinders as a band the album's May release is delayed until this week, tour pushed back 10 months to 2021, the Liverpool date at Sound City postponed until September.
It seems appropriate to speculate the AWOL Tom is busy buying up guitar strings or drum skins. Are musicians stockpiling anything specific?
'Not quite yet!' Charlie laughs but admits, 'It's scary. The music industry might have to take a massive look at itself, bands like ourselves might have to think quick on their feet how we're gonna release music. Maybe away from the conventional release the album then tour it. It's scary for small venues reliant on ticket sales and bar receipts you wonder how many bad weeks independent venues can take.'
And yet, The Blinders – bass guitarist Charlie, vocalist and guitarist Tom, and drummer Matthew Neale – originally from Doncaster but settled in Manchester, themselves waved the small venue circuit goodbye during the lifetime of 2018's debut album Columbia, each tour seeing them fill larger and larger rooms. They've always eyed up 'the next logical step' as he puts it, progressing from Manchester's Deaf Institute to Gorilla to the Ritz and in March next year, the city's Albert Hall.
'Each time it's "holy shit this is the biggest gig we've played?" and it's never lost on us. We've never made goals, we've never sat down and gone "how to we get to the Arena in two years?" When you start doing that, it's quite a disingenuous process.'
As the band emerged some three years ago, guitar music was getting a bad press and still is, that endless yawn of conversation speculating on its demise. Whilst The Blinders are not reinventing the wheel exactly, they set themselves apart from the shouty angst male guitar set up, the addition of cheeky surf guitar, Spring's single Circle Song open and vulnerable and with more space. They defy the old cliché that guitar bands must tread the same path album after album, eschewing the if it ain't broke it don't need fixing approach.  Fantasies of a Stay At Home Psychopath sees the trio put even more clear water between themselves from meat and potatoes stodgy lad rock refusing to die a death.
'It feels musically one of the best songs we've ever done,' says Charlie of Circle Song, one of Tom's tracks. 'We were very keen to put that out first and show that change of direction which we're going down. A real milestone. We've always had that musical style in us in orbit, something we're experimenting with, something we've not really done before.'
Their creative heroes, the ones they look up to, have that ethos of changing direction.
'You do something, it's done, you move on and do something else. Circle Song is the perfect example of that you can still tell it's us, nods to those influences and sounds from the first album but it's what can we do next. How can we push ourselves to the nth degree, what can we pull out of ourselves.'
It's refreshing to see The Blinders unafraid to give a nod to who inspire them, Bowie is hip and bags some easy cool points but they give thanks to the wider fold outside their fanbase's palate; in live performances of Columbia's Where Man Comes, there's a sweet dip into Elvis Presley's Heartbreak Hotel.  It seems to me the threesome admire the idea of the icon, the star who stands a little way apart.  A yearning for the pop star changing lives, doesn't dress like their audience; the audience dresses like them.
'Bobby Gillespie spoke about this once. He said his fashion sense onstage was the audience should look up to the musician, you should look like a hero. I do think there's something in that. You're not above your audience but the best shows I've been to, when you so to see Nick Cave or Arctic Monkeys you look up and you think, fucking hell I wish I was that guy, I wish I was in that band. There's a connection here and the best shows make you feel like you're the only person in the room.'
A good few of the songs they'd been playing live didn't make it on to the album. Fantasies of a Stay At Home Psychopath is the title of a song written specifically for it but 'we canned the song but kept the title!'
It served its function, then.  Recorded at Manchester's Eve Studios, producer Rob Ellis (PJ Harvey, Anna Calvi) was pretty strict with the band by the sounds of it.
'He worked his magic, and ripped songs apart a bit, canning a few songs and we're "fucking hell that's the best song on the album" and he's like, "nah, that doesn't work, doesn't fit".'
Is Charlie happy with the result?
'In the end the album we've got is the best possible album we could have produced. Testament to the process we went through.'
It seems that robust method is something that works within the band's essential framework. When writing songs Charlie will take a set of lyrics to Tom and 'he'll take them away and rip them apart then we'll sit down and try to fit a song to them.'
'The songs I'm most proud of are where you get a line from nowhere, might be from a book, observing someone and you think "that's interesting", you write it down and it takes you on minutes of pure manic writing. You look ten minutes later at this thing in front of you and think "fuck that's good". Then come back the next day and think, "that's shit. What the hell am I talking about here",' he laughs, though revealed the punchy Forty Days and Forty Nights was written in a few efficient minutes.
The new album according to the press release is about 'existential despair, mental health and society's ills in a time of planetary crisis'. The songs on the record reflect a different side of an imaginary psychopath's character and mirror what's happening in the world right now, although Charlie makes it more personal, the record representing their lives as young adults, becoming financially independent for the first time. 'And fearful of our positions in the world, how politics feeds into that and a bit of fear.'
It's interesting that even though when we talk it's over three months before Kasabian's Tom Meighan's dramatic fall from grace following a domestic violence conviction, Charlie independently brings up an awareness and consciousness of The Blinders' position as privileged white males. He is aware that shows can be 'masculine' at times, as he puts it.
'We're always conscious of that. I think a gig has got to be a collective experience, the best shows are when you look around and everyone is losing their mind.'
There is a difference between expressions of emotion from men, I tell him, and unpleasant old school machismo. The Blinders shows don't feel exclusionary.
'I think you've hit the nail on the head there. I'm glad you've observed that. It's a good thing to hear it, something you think about obviously as three white guys onstage you are preaching. Maybe you're not entitled to preach about the world, or maybe you are!'
Fantasies of a Stay At Home Psychopath is released on 17 July via Modern Sky. The Blinders play Liverpool Sound City on September, and tour the UK in May 2021.
Interview by Cath Holland