As The Clone Roses prepare – two postponements later – for an enormous celebration of The Stone Roses' seminal Spike Island concert, 30 (now 31) years ago, 'Clone Mani', bassist Mike Bagshaw gives fan, Ralph Swift the lowdown on the big day.
RS: The Empress Ballroom gig in 2019 was a triumph. It felt like the Clones at their peak echoing the Roses at theirs. Did you know then that Spike Island was in the pipeline? And what does it mean to follow in the band's footsteps so authentically?
MB: Thanks, yeah our Empress Ballroom show is possibly my favourite gig. We had an eye on Spike Island yes, it obviously felt like the next step after Blackpool. The logistics of putting a show on the Mersey estuary is no mean feat. We had already done a couple of one day festivals along with Andy, who's working on Spike Island with us. He runs Glastonferry festivals over in Warrington, but this is a considerable step up in both size and production – for all of us.
Spike Island is enshrined as a seminal moment in British pop history, but was blighted by poor sound and shambolic organisation. Given you've had the most unforeseen of unforeseen circumstances to contend with, how are you planning to recreate and add to the highs, and how important is it for you to right some of the wrongs?
MB: It's been an unbelievable strain to get this day on and I can't thank everyone involved enough. They've had problem after problem thrown at them and to be honest they deserve knighthoods. There's been a lot of thought and planning gone into the day so I'm confident the wind wont blow the sound over to Runcorn. With the other tributes on during the day and a host of DJs, we see this as a celebration of the day 30 years ago rather than a like for like reconstruction. That said the Clones will be replicating the original performance.
The gig now coincides with the easing of restrictions, and 15,000 are about to descend onto this sacred spot, does it now feel more climactic than you'd anticipated?  How's the pressure/excitement balance?
MB: It's been a long road to get to this point. I'm usually anxious before I play any gig so yes I do feel the pressure of the event and everything that the world has been though plays on the mind. That said, I'm excited to be have the opportunity to play on the Island in front of such a large crowd
You've ruled out playing tracks from Second Coming, but you're not limiting yourself to the original Spike Island setlist. How have you decided what to include and what to drop? Any surprises?
MB: There will be a couple of tweaks in order to play some of the crowd favourites from the same era – songs that The Stone Roses didn't perform that day in 1990. I'm not saying though don't want to spoil the surprise.
With the original band almost certain not to play again, how does it feel to be the definitive live experience for a new generation of Roses fans?
MB: It's amazing how many young faces we see in the crowd. When the Roses came back and did their Heaton Park shows our crowds diminished. The year later we recreated the Heaton Park set and our attendances shot up way past pre Heaton levels. One thing we noticed was loads of kids at the front going mental, it's such a buzz seeing young faces loving and accepting what we do.

As with a lot of the nights you put on around the country, this gig's going to be a real celebration of the Manchester scene. Aside from your careers as the Clone Roses, how has this music, movement and region shaped you?
MB: It's hard to escape that scene if you were a kid in the 80s/90s, into music and armed with a guitar. I was about 13 in 1990 so just kind of missed out on it to be honest. I loved the Roses back then though, don't get me wrong but I was also into psych, dub, shoegaze, trance, punk and even some metal. I knew the Manchester scene was special though and I'm very proud of my family connections to the city even though I was brought up in the rugby league wilderness of the M62. 
And what's it like touring with would-be Morrisseys, Gallaghers, Ryders, etc.? Less trouble than the 'real thing'?
MB: Ha ha yeah I'd imagine they are a little easier to manage. It's great to be honest, we've made good friends with a lot of these bands over the years. You still have to perform in front of hundreds, sometimes thousands of people. Some people turn up sceptical and you have to try to win them over. I think the pressure of performance bonds us all… and then it's back to the day jobs.
What do each of the Clones admire most about their Roses counterparts? And what solo parts do you each look forward to most in your set?
MB: For me It's easy to love Mani. I've met him on a few occasions and he's such a friendly down to earth guy, makes you feel welcome and instantly at ease. I love the bass in Roses tracks and 'Adored' was one of the first 2 bass riffs I learned back when I was 13, that and Fleetwood Mac's 'The Chain' (the formula one ending obviously). The bass parts are all fun to play but when the bassline from Adored starts the crowd come alive, such a buzz.
Can't speak too much for the others but our Reni, Phil, has a big job on his hands playing Reni's very distinctive style. Luckily Phil also plays in jazz bands so has it in his arsenal. Clone Squire enjoys his Squire solos and has spent many a painstaking hour replicating the guitar sound. I think Gavin who plays Ian enjoys the excuse to give it some swagger and get the crowd going.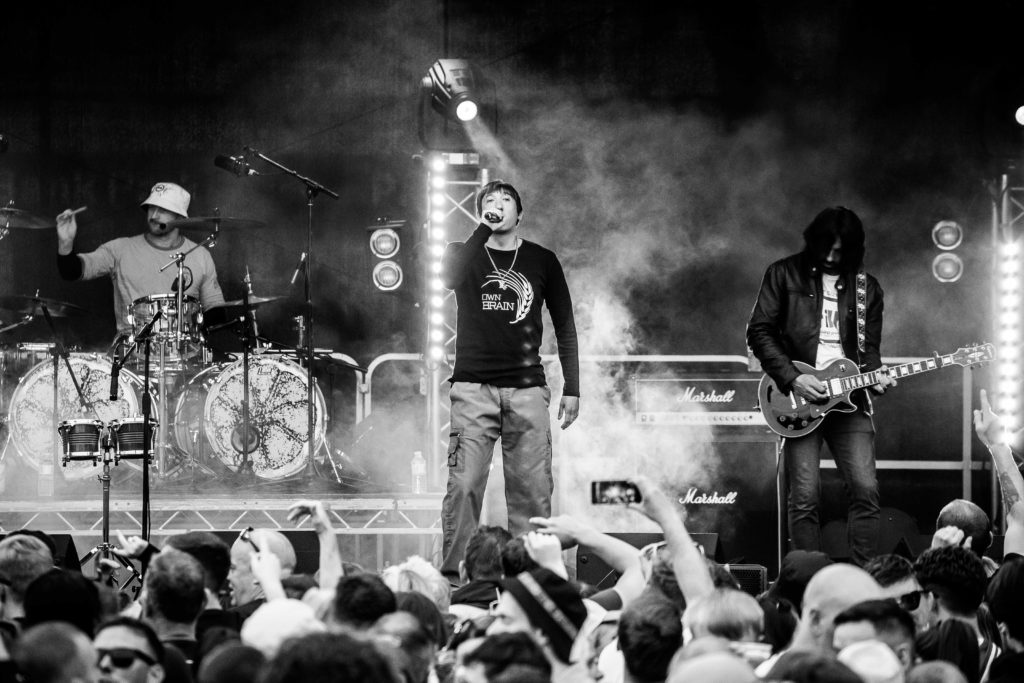 What do you do to get into character? Is there a fine line between where you end and your clone begins?
MB: For me it's pretty natural, my playing style is similar to Mani's and I even find I move on stage like he did. The others have to act their roles a little more possibly. It's strange but as long as the crowd are enjoying the performance you get the confidence to play the part. It's musical theatre to a point I guess.
When they eventually make a feature film of *this* Spike Island, who do you want to play the band?
MB: Well our Squire and Brown are brothers and they're always arguing so we'll get the Gallaghers in for them. I've been told since being at high school that I look like the singer from 90s indie pop group 'Jesus Jones' so lets draft him in. We are on our third drummer so we'll do a Spinal Tap and just have him keep mysteriously dying and a different actor in each scene.
Finally, where do the Clones go from here? Heaton Park? Glasgow Green? Or just ride it till the wheels fall off?
MB: Well you never know but for now with everything that's happened in the world I'll just be glad to get back on the circuit. I thought the wheels would fall off 20 years ago but here we are, we've outlived most of the venues we've played.
Spike Island: The Resurrection is this Saturday 24th July and promises to be a belter.